Discover The Secret Of Making Money Online
The secret of making money online is through following your passion, then it becomes easy to make money. Here are some ideas for making money at home.
You may be wondering why I am writing about making money on this spiritual web site. God likes to see all of us use the potential that we have to be prosperous.
But first I would like you to ask yourself a few questions...
1) Do you know something, a little...or a lot about anything, such as?
Accounting or How to Balance Your Finances
Arts & Crafts
Boats
Designing or Decorating
Raising Kids
Sewing
Organizing Parties or Conferences
Cooking (your own recipes for pastries etc.)
Medicinal Herbs
Health Issues
Sports/Specific Exercises
Gardening
Computers
Traveling
Music - (playing a musical instrument, recording etc.)
And so on...there are endless possibilities
2) Do you have any passionate hobbies or interests?
3) Can you at the very least read about and research your hobby/interest on and offline, make sense of it all and use that knowledge to help others?
4) Can you read, comprehend and follow ten simple steps to get you started...for less than $1 a day?
5) Can you type in Microsoft Word?
If you are a work-at-home-Mom, check out Site Build It! which has all the tools you need. Once you know your passion - hobby or ability, then you too can have a web site just like mine that attracts lots of traffic.
There's no Get Rich Quick scheme unless you are lucky with playing the lotto. But now you know that the first step in making money online is to build your own website! Once you have about minimum of 30 pages, you can start making money through ad words with Google adsense.
Just ask yourself the questions I have outlined above, and you may be surprised. You'll discover that you do have a hobby or interest which you know a lot about, can write about and make money with.
The easiest method of building your own web site is to featur what you love such as your hobby. Then it will be easy for making extra money from home. the secret of making money online is writing what you are passionate about and the money will flow.
You can either learn about Site Build It on your own through downloading the videos, or you can study it through an e-course.
And once you have joined Site build It! you will learn how to incorporate the secret of making money online through the tools at Site Build It! You can build your web pages without using HTML or any other technical program that will get ranked in Google and will attract tons of traffic
These Money Making Ideas Are
Real Money Making Opportunities

Once you know the first secret of making money online, here are some ideas for making money through your website.
you can become an infopreneur,
an affiliate merchant
or you help to promote some products that relate to topics on your site
For example, you can start making money immediately by joining Link Share, an affiliate group, by placing a banner such as this one on your website. Just click on it and join today!
Just by sending customers through your web site to an on line store, you will make a commission. Read about finders fee.
For example, if you are a musician, you can build a web site about music or musical instruments, and then place links on your site to an on line store that sells musical instruments.
Read how you can become an affiliate. Go to my page and learn about an affiliate program making money. Site Build It! is one of the most generate affiliate programs for making easy money.
People who are reading your site will not mind seeing links and product recommendations because they may need what you are promoting.
This free money making e-book will help you to make easy money, read free money making ideas.
All you have to do is join an affiliate program and put the affiliate links on your site that will send customers who click on the links to the merchant who sells the products.
When a visitor clicks from your site to their site and buys something, you will receive a commission (usually between 5% and 25%) of the value of the products they buy.
You do not have to carry any stock or worry about shipping. All you do is refer interested customers. More secrets making easy money concerns having a web site.
Put The Secret Of Making Money Online
Into Effect With A Website

If you want to make easy money, you have to build a web site similar to this one that will get visitors. Through Site Build It! you will get visitors for free by ranking high in search engines such as Google. All you have to do is write what you are passionate about.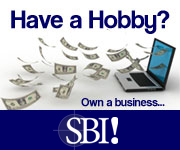 AND, you will not have to pay for keywords or marketeers for promoting your web site since you are building it yourself with all the tools that SBI has available for your use.
A good web site is one that contains interesting information that people want to read, like mine for example. Search engines WANT to find informative web sites. If your site has good content then you're most of the way there.
Read how to become an infopreneur.
Writing Good Content Is Fun And Easy
When you write about things you're interested in and passionate about, such as your hobby, that is the best secret of making money online.
For example, if you know a lot about gardening then it is easy to write about starting a garden and the different kinds of vegetables and flowers. To start making easy money you simply include links to all the gardening products that you like. If someone agrees with you and buys, you make money through commissions.
If you are a novice concerning the Internet, or a student, learn how you can build an online business that is perfect for you through Solo Build It! You can learn everything you need to know about the Internet quickly enough to get things rolling.
And you don't need to know anything in order to use Solo Build It!, you'll learn about it on the way.
Through the videos and weekly lessons, SBI walked me through everything I needed to know, one step at a time from domain registration to hosting to search engine optimization and submission.
And I will also offer you help, through best money making idea and you can also contact me.
If you're serious about a real money making opportunity, concerning the secret of making money online then check into networking and become an Inter NETwork Marketer.


Back to money making secrets from secret of making money online
Start Making Money Now With Solo Build It!

If you have more questions and you would like to speak with me, you can contact me.

Apr 28, 17 09:43 PM

I recently got a problem after I got antiques from my Grand parents. Such as noises that make my ears hurt, nausea, sick too the stomach and tricked in

Apr 28, 17 09:14 PM

I am an Indian Student who never follows regular practices of Mudras or meditation or visit temples...but, for the past one year I have been experiencing

Apr 28, 17 08:58 PM

I recently think I met my twin flame I never heard of anything before this silly I know he's an air force mechanic. I love the military, everything about,